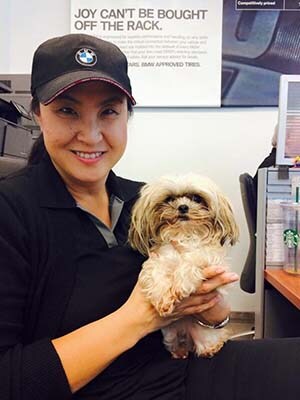 If there is one thing you should know about Patricia Fradenburg, it is that her customers LOVE her! While walking with her to take her photo for this interview, a customer shouted her name and it was as if they were best friends. If you spend just five minutes with Patricia, it is not hard to understand why they love her; it is because she LOVES them too! Patricia takes customer service to an entirely different level and ensures the customer does not feel like a customer; she makes sure they feel like family. It is this kind of attitude and commitment that earned Patricia a promotion from Performance BMW Service Advisor to Performance Acura Service Manager. Patricia's commitment and dedication to her customers will carry over to her new Performance Acura customers.
Patricia began working for Hendrick Performance BMW ten years ago in September 2007. Prior to joining the Performance BMW team, she and her husband operated their own Land Rover repair shop. Patricia knew nothing about cars, so she worked on cars for about ten months to be able to have educated conversations with her clients. This gave her great insight on Land Rover, and when BMW bought Land Rover, it was a natural progression for her to learn the BMW line.
Patricia's customer service credo is premium service, all the time without fail. She understands that owning a car is second only in significance to home ownership of the list of pivotal life events. Therefore, when a customer has issues with their vehicle and their lives are disrupted, she makes her mission to empathize with the customer and alleviate their stress; she wants to make their service visits as easy and natural as visiting the grocery store, she says, a philosophy she has been employing with her BMW clients for 10 years.
Now she will be working with Performance Acura customers and working in the in the trenches with her team. Patricia defines great leadership as everyone being equal, recognizing strengths and weaknesses and utilizing those for each person on the team to the benefit of each other, creating a harmonious balance.
Patricia will miss her Performance BMW team and customers, but is excited to move across the parking lot to the Performance Acura team. If you see Patricia, honk as you go through the service line. It is 100 percent certain you will receive a smile and a wave.