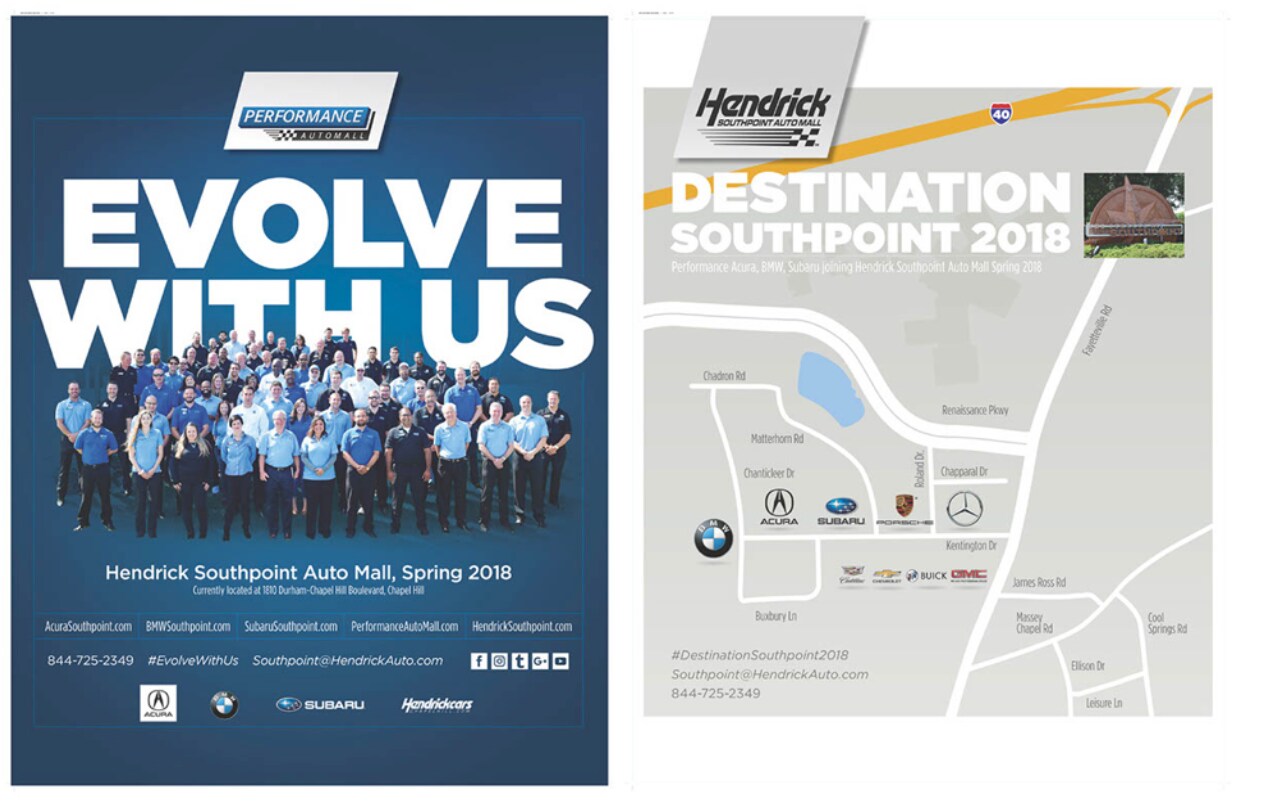 Wow! Did you know Performance BMW has called the Chapel Hill community home since 1985, and in that time, Performance has been the local resource for BMW clients? In that time, Performance BMW has grown from 100 employees to 330 employees and their automotive sales increased from 150 to 175 cars per month to a whopping 400, plus cars per month. So, what do you do when your business has under gone such tremendous success and growth? You evolve by planning for the future with rewarding customers and employees with new state-of-the-art facilities that will provide one-stop shopping for car-buying needs, while expanding the service department, along with increasing your inventory and creating more positions for employee growth.
Chapel Hill has been such a successful, supportive community for Performance BMW, and this new expansion will not take them far from their roots. The beautiful new buildings will be located just five miles from their current location at 1806 Durham-Chapel Hill Boulevard in Chapel Hill, so this means Performance BMW will continue providing outstanding sales and service to the Chapel Hill community. Their new store will be located at Hendrick Southpoint Auto Mall and not only will the facility be stunning, Performance BMW, also a Hendrick Automotive Group-owned company, will be aligning their name to the Hendrick brand.
Hendrick Automotive Group is known for their philanthropy, and Market Area Vice President, Gerald Ramoin, is no exception to that rule. Over the years he has made it his personal mission to partner with the Chapel Hill community to give back and provide support for various charities and non-profit groups to show gratitude and thanks to the community who has helped Performance Auto Mall grow to the successful business it is today. This opportunity for expansion does not mean forgetting your where you came from; it means continuing to support the Chapel Hill community, while also adding new partners from Durham area to provide even more community support.
With such gratitude to the community, Performance BMW's Communications Director Jill McCullough, a Hillsborough native, and Performance employee of almost 20 years, is excited to spearhead this expansion campaign to document and share the wonderful changes happening at Performance Auto Mall. Jill and her marketing team will turn www.performanceautomall.com into a landing page for customers to become a part of the growth and expansion experience. Customers will be able to watch the new locations transform over time through such campaigns as Transformation Thursday, where a timelapse video will be posted each week of the construction happening at the new location. Performance Acura understands and appreciates the involvement of their customers, because without their support and business over the years, this move would not be possible.
To experience Performance Auto Mall's growth, visit Facebook each Thursday to see the transformation of the new location and plan to be a part of the Grand Opening, where Mr. Rick Hendrick will be in attendance, along with the rest of the Performance Team.
Do you want to work for an amazing company, Performance Auto Mall's expansion provide career opportunities for service technicians, sales advisors, accountants, marketing representatives, and more. To find out more visit
www.HendrickCareers.com
.