Performance BMW had two events happening this week on our dealership campus. The first event, American Red Cross Blood Drive was held Wednesday, February 21, 2018, and was open to the public and to our staff. The next event was our employee luncheon held on Thursday.
The blood drive was a success and we are proud to be a part of the drive save lives because the American Red Cross does so many wonderful things and this drive I had the pleasure of being on a team with American Red Cross coordinator, Stephen Latham. He was very helpful with the information he provided to market this event. On the day of the drive, the American Red Cross workers were diligent in making sure to attend to all of those who donated blood and cared for the donors through the entire process.
Rapid Pass, the pre-registration center on the Red Cross website, made it easy for donors to donate quickly with little interruption to their day. We were also very fortunate to have two Power Red donors, and during this Critical need for blood, Power Reds are valuable.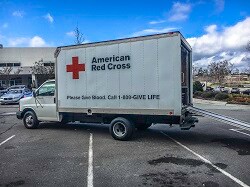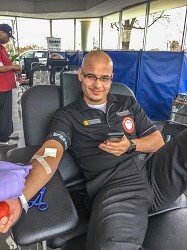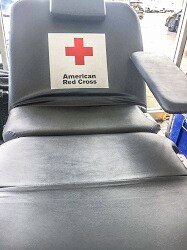 GSM, Eddie Mayorga doing his part
If you haven't donated blood or if it has been a while, please consider donating. It is easy to go through our days not anticipating the need of such things until we are knee deep in a crisis.
Thursday, February 22, 2018, was our Performance Employee Luncheon. It is a Hendrick tradition for each dealership to host a monthly luncheon for the employees to show appreciation for all they do. At Performance BMW, this is a time we join together to laugh, honor our Promise Keepers, and to win money on the wheel.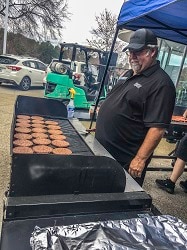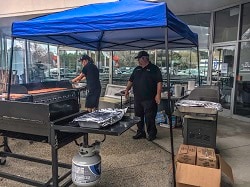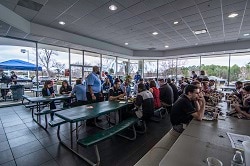 Facilities Manager Chet Weatherington & Asst. Manager Melissa Stolz grilling.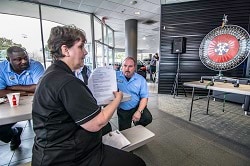 Vincent McLeod looking on as Robin Theobald gives
Promise Keeper John Jameyson his honor.
Our Promise Keepers are the employees who go above and beyond their job responsibilities to help out their team, others, and the dealership. Their peers and the management team nominate them and the reason they were nominated is read to all of the employees to show appreciation for them. We will take this tradition to our new location in Southpoint because Promise Keepers are a great example to recognize servant leadership. Performance facilities manager, Chet Weatherington and assistant facilities manager, Melissa Stolz worked hard to grill hamburgers and hot dogs for the entire campus.
While we are on the topic of the facilities team, it is important to mention how hard this team works, they are always there, with smiles on their faces, and they just have it handled. They are a very important and integral part of our dealership team and they are the behind the scenes heroes. We are truly honored to have them a part of our Performance family.
#PerformanceBMW #BMWSouthpoint #AmericanRedCross #DonateBlood #PowerReds #RapidPass #WeLoveOurEmployees #TeamHendrick #EmployeeLuncheon #DestinationSouthpoint #ChapelHill #Raleigh #Durham #Cary #Apex #HollySprings #RDU #TriangleDealerships