BMW's i3 Hybrid Car is Smarter--and More Versatile--Than Ever
The BMW i3 has been bucking trends since its creator first put pen to paper. It doesn't look like anything else in the lineup--really, it doesn't look like anything else on the market. It's pure BMW, but its bulky body and surprising powertrain stand out. If you're considering an ultra-efficient and eco-friendly commuter car, look at this model first. There are two trim levels available, BMW i3 and BMW i3s, with multiple package tiers: Deka World, Mega World, Giga World, Tera World, and new Technology Package + Driving Assistant.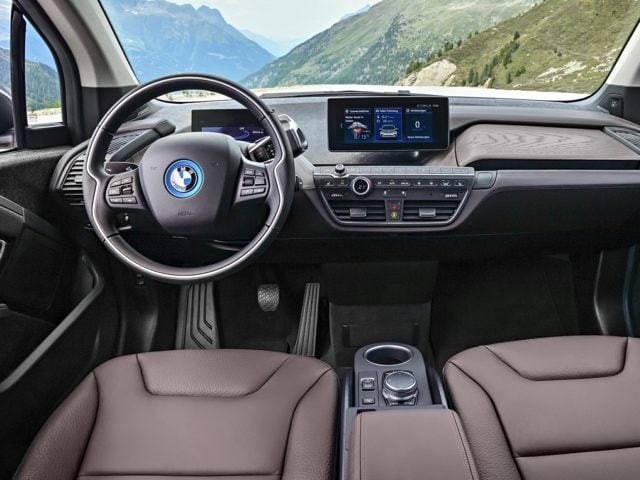 The BMW i3's Cabin is Spacious and Comfortable
BMW's commitment to an earth-friendly approach to car design can be seen just as well inside the cabin as outside of the body. BMW designers used special upholstery leather that was tanned using natural, olive-leaf extract oils instead of conventional chemicals--and the open-pore eucalyptus wood that decorates the dashboard is one of the most sustainably-sourced materials in automotive today. The BMW i3 is eye-catching, comfortable, and produced with sustainability in mind.
Aerodynamic and Smooth
Aerodynamics doesn't always look the way you think--and while the BMW i3 doesn't look wind-tunnel-sculpted, it boasts a drag coefficient of under 0.30, which is actually less than some sports cars. This make it a slippery and smooth traveler on the road, improving wind resistance and further complementing the subtle BMW design magic that's at work: like a dual kidney grille, BMW roundels, and a reimagined Hofmeister kink.
Motor Performance and BMW i3 Range
The  BMW i3 powertrain is tuned for 170 horsepower as standard, but can be boosted up to 181 horsepower with a more powerful motor option. When equipped with BMW's range extender, the model adds a small gas engine. The classic BMW i3 claims a 114-mile range at full charge, while the BMW i3 with range extender claims a maximum travel distance of up to 180 miles.
Technology and Safety
The well-equipped BMW i3 means that you don't need to compromise on the things that you want, to drive with a green conscience. The BMW i3 features many of the same amenities that you'll find in any luxury car, like a touchscreen display and responsive infotainment, custom climate controls for comfort, audio and media streaming, and premium safety features. Come visit our Durham BMW dealership and test drive the i3.