Which BMW X Model is Right for My Life?
Finding a luxury vehicle that is equipped for your family while having an impressive design and thrilling performance might sound impossible, but the BMW X Lineup has it all. We look forward to seeing you at our Durham, NC BMW dealership to schedule you for a test drive in any of the BMW X models. Each of these options are built in the Spartanburg, SC BMW plant, giving the dependability that you are looking for in the model you'll add to your life.
2020 BMW X1
The 2020 BMW X1 is ready for any adventure that you have planned, coming with a 228-horsepower engine and an available all-wheel drive system to give you the control that you are looking for. You'll also be getting a standard 8.8-inch infotainment screen with the iDrive system to connect to all your apps and media.
2020 BMW X2
A coupe-inspired design gives this Sport Activity Coupe® (SAC®) a look that distinguishes it from the competition. You can upgrade the base engine to a 301-horsepower option, making this a family vehicle that adds a thrill to even your most boring commute. Available as the X2 sDrive or X2 xDrive, you will be able to get the exact performance that you are looking for.
2020 BMW X3
The variety of powertrain options helps make the 2020 BMW X3 the model that will be perfect for your lifestyle. A 248-horsepower base engine can be upgraded to the more powerful 382-horsepower option, or you can get a more efficient ride from the xDrive30e hybrid trim. Every model comes with innovative tech options like the fully digital 12.3-inch Digital Instrument Cluster and the 10.25-inch Central Information Display.
2020 BMW X3 M
The resemblance to the 2020 BMW X3 is apparent but being behind the wheel of the 2020 BMW X3 M will provide a completely different experience. There are two engine options, with the most powerful offering up to 503 horsepower, to help match the aggressive design that this Sports Activity Vehicle® (SAV®) will add to your life. With many M-Specific parts for performance, design, and interior features, everyone will have a smile on their face when inside your 2020 BMW X3 M.
2020 BMW X4
The sloped roofline of this SAC® makes an elegant outline for this exciting model. Not all vehicles that are perfect for your family need to be boring, and the excitement of the 2020 BMW X4 proves that. From the standard Panoramic Moonroof to the available Vernasca Leather, every feature of this model will help put a smile on your face whenever you catch a glimpse of it.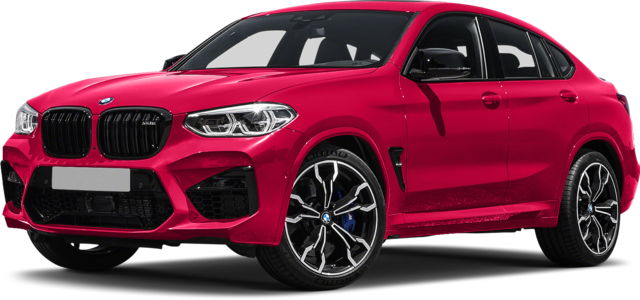 2020 BMW X4 M
A more aggressive and angular design and a more powerful engine make the differences between the base BMW X4 and the 2020 BMW X4 M clear. Two engine options provide either 473 horsepower or 503 horsepower, having the M xDrive, Active M Differential, and M Sport Brakes to give you a performance that only models in the M lineup can offer. The 2020 BMW X4 M offers a spacious interior and an unmatched driving experience, making it a vehicle that you'll want in your driveway.
2020 BMW X5
The 2020 BMW X5 gives you up to 72.3 cubic feet of cargo space while still allowing for up to 523 horsepower. No matter if you have been looking for an option to handle your daily commute or your weekly errands, the 2020 BMW X5 has all the features and capabilities that will give it everything you need.
2020 BMW X5 M
Upgrading to the 2020 BMW X5 M further increases the excitement that the 2020 BMW X5 offers. While the previous option offered an impressive amount of horsepower, the 2020 X5 M still improves upon it by offering up to 617 horsepower and advanced performance features to help give you the traction, stability, and responsiveness to put you in complete control.
2020 BMW X6
This is the SAV® that proves you don't need to upgrade to find some of the most advanced features. With Adaptive Full LED Headlights, two 12.3-inch displays, and a fully-automatic Panoramic moonroof coming standard for the 2020 BMW X6, it provides a strong base for you to add even more innovative features when you choose this model for your daily commute, weekly errand, and family vacation.
2020 BMW X6 M
Calling the 2020 BMW X6 M sleek and powerful is almost an understatement. Getting inside will help you see how the 600-horsepower or 617-horsepower powertrain will be right for your lifestyle. The BMW M Lineup offers some of the most impressive models on the market, and the only way to get the best view of the capabilities is to be behind the wheel.
2020 BMW X7
As the biggest BMW ever built, the 2020 BMW X7 offers a unique array of features to suit the needs of your life. Up to 523 horsepower, 90.4 cubic feet of cargo space, and room for up to seven passengers will make the 2020 BMW X7 a strong contender for the next vehicle that you will own.