BMW M Town Tour Thrills with Exclusive M Performance Test Drives
On Saturday, May 18th, BMW enthusiasts from around the Triangle immersed themselves in the power of M Performance at BMW of Southpoint. BMW North America stopped here in Durham with a lineup of M Performance vehicles as one of the first stops of the M Town Tour traveling around the U.S. this summer. With the M Town Tour, BMW is bringing a never-before-seen cadre of M vehicles to dealerships across the country, offering the extraordinary opportunity for more clients to experience the power of M. BMW Southpoint was lucky to take part in this amazing tour as the only M Certified BMW Center in the Triangle.
The 2019 M4 in striking Austin Yellow Metallic, 2019 M5 Competition, and 2019 M2 Competition ready to drive outside BMW of Southpoint.
The BMW M Town Tour is a tour-de-force, pun-intended, of BMW's newest and most powerful M vehicles. This lineup consisted of the M850i xDrive Convertible, M5 Competition, X3 M Competition, M340i, and M2 Competition. Each vehicle makes its own unique statement in appearance and performance, from the first-ever BMW X3 M to the track favorite M2 Competition. Fortunately, as an M Certified dealership, we had additional M vehicles available to test drive, expanding the field to accommodate many more guests.
Our staff, along with the BMW North America team, came prepared for the crowd at our dealership by providing refreshments, giveaways, and items to purchase for guests waiting for their turn to drive the M vehicle of their dreams. One lucky participant from the event will be winning a BMW 101 Experience at the BMW Performance Center in Spartanburg, South Carolina!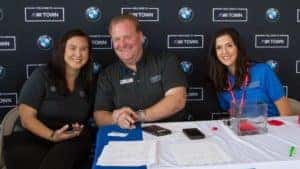 Patricia Fradenburg (Service Manager), Curtis Aldershof (General Manager), and Guidry Ramoin (Social Media Intern) register guests at the M Town Tour welcome table.
Once again, we truly enjoyed and appreciated the opportunity to partner with BMW North America to bring the M Town Tour to the Triangle. It was such a pleasure to work with the M Town Tour team and show them our own special BMW of Southpoint hospitality. From reactions of all those who test drove, we know we made some driving dreams come true. There is nothing like driving a BMW, The Ultimate Driving Machine.